In this time of crisis, we all can benefit from the strengthening of our professional and community ties. 
The Hub Director Spotlight Series intends to aid our networks in maintaining meaningful connections between the multitudes of diverse UCCRN Members -- and hopefully, stimulate new thought and conversation between members who would otherwise not have been acquainted with each other. Central to UCCRN's mission, and now more than ever, collaboration amongst our network of leaders in all fields related to urban issues is critical to the betterment of our world. 
Our third Hub Director Spotlight focuses on UCCRN's European Hub, centered in Paris at IEES-Paris (Paris Institute of Ecology and Environmental Sciences), in partnership with the French National Research Center (CNRS) and Sorbonne University. Dr. Chantal Pacteau, UCCRN's European Hub Co-Director and Dr. Mattia Leone, Scientific Responsible of the Urban Climate Workshops Series for the European Hub, virtually "sat down" with UCCRN intern Sylvie Binder to discuss their work and the importance of promoting proactive governance in both the realms of climate and COVID-19. 
When I asked Dr. Chantal Pacteau, UCCRN's European Hub Co-Director, about her areas of professional interest, she replied, "I am interested in making things happen." 
Dr. Pacteau's answer makes perfect sense when thinking about her professional training as a biologist with a specialization in ecological transition; her career centers on understanding transformation and progression. And more broadly, the notion of progress, of informed and responsible action, is a theme that I see across the various kinds of work that the European Hub has conducted since its founding in 2015.
Her work studying changes over time in the environment has likely informed her view of the capacity for systems to adapt to a changing world. In the past decade, she has focused her career on interdisciplinarity and transdisciplinarity– working not only with other scientists, planners, and professionals already involved in the debates around climate change, but also with cities' municipalities which are traditionally seen as outside the realm of climate science.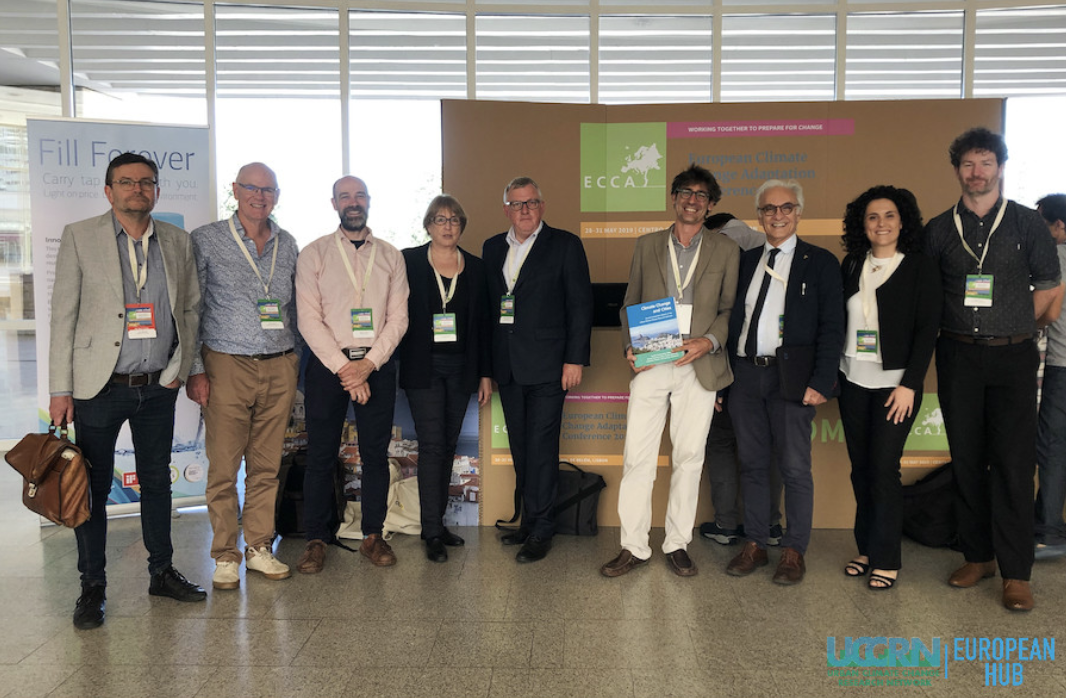 One such example of the focus on interdisciplinarity seen in the European Hub is the involvement of Dr. Mattia Leone, an architect by training with a PhD in Building Technology and Environmental Design from the University of Naples Federico II. In addition to being a professor at the University of Naples, Dr. Leone has worked on projects related to disaster reduction and climate change adaptation in cities with UCCRN in ARC3.2. He continues to work with scientists around the world defining methods for measuring adaptation in cities, embedding and integrating climate adaptation into different levels of urban planning, and finding ways to implement them. 
In his words, "any professional discipline can be oriented to think about a wider system of social, technical, environmental and ecological balance," an ode to the strong sense of inclusion and systems-thinking seen in the European Hub.
Even though Europe is consolidating a policy approach to climate change based on a solid expert-based and scientific background, some crucial topics related to climate resilience in cities, such as the growing awareness of the concept "Nature-Based Solutions," still could use more expert opinions in the creation of truly effective, interdisciplinary policies.
Nature-Based Solutions are very in vogue, they told me, and in general, identifying projects which could benefit from nature-based solutions is considered a relatively easy way to make cities more resilient. But Dr. Pacteau told me that the knowledge base that would allow experts to anticipate the subsequent effects of Nature-Based Solutions on the health and trajectory of urban ecosystems, or the sustainability of urban ecological engineering projects, is rather weak compared to other climate resiliency solutions.
This is particularly problematic in a context where calls to rely on "green infrastructure" to enhance urban sustainability are increasing and where fast-pace greening initiatives are multiplying in many cities worldwide. Predicting the ecosystem services delivered by nature requires taking into account complex interactions, developing multifunctional approaches, and building hybridization between grey and green engineering.
Moreover, Dr. Pacteau explained to me that "this reliance upon 'nature' can be seen in some cases as counterproductive" for the healthy process of ecological transition. Though Nature-Based Solutions can be very positive, they have the potential to be ineffective or unsustainable if not done correctly. 
A way to grasp the importance of understanding the full dynamics of finding the right climate change and resiliency policy can be found through similar events that have occurred in world history. Dr. Pacteau and Dr. Leone spoke about the similarities between climate scientists and public health experts in this historical moment. The dual crises of climate change and COVID-19 have seen largely reactive responses. These responses reflect a narrow view of what constitutes a "crisis" that can be seen in most policy responses to both of these existential problems.
This reactiveness is pervasive in Europe, but also globally. Too often, change is necessitated by crises created and exacerbated by a self-perpetuating cycle of humankind's own stubbornness and unsustainable behavior. Dr. Pacteau explained that human health issues and the COVID-19 pandemic are unfortunate examples of the same phenomenon of dwindling biodiversity that experts have been telling the world for a long time. Very few proactive resiliency frameworks have been implemented on the topic of global pandemics and climate change despite the plethora of expert knowledge on the subject. And these crises are related; climate change is dampening worldwide ecosystem biodiversity and increasing the risk of dangerous viruses that can be transmitted from non-human species to humans.
Resilience & Pushing the Envelope 
As the conversation continued, Dr. Pacteau and Dr. Leone assured me that instead of a sense of pessimism, the experts are not giving up on the future. Rather, in her perspective, "the pandemic has emphasized the importance of global thinking." Experts and non-experts alike must learn to embrace a mindset which emphasizes interdisciplinarity and collaboration to meet this critical moment of converging crises.
Addressing the changing climate even as recently as ten years ago meant centering solutions on mitigation and not adaptation. Over time, these debates have changed to integrate mitigation and adaptation solutions by the work of experts such as Dr. Pacteau. Progress comes from experts who push the envelope, and in their words, "work on the debate" until a consensus is reached, but simultaneously implementing evidence-based urban transformation pathways based on cross-sectorial knowledge-building and sharing with local governments and communities. For them, clarity and democratic control are absolute prerequisites for engineering truly livable transformation. Dr. Pacteau said to me that she is only interested in a concept until there is a general agreement on an issue, at which point, she goes "somewhere else."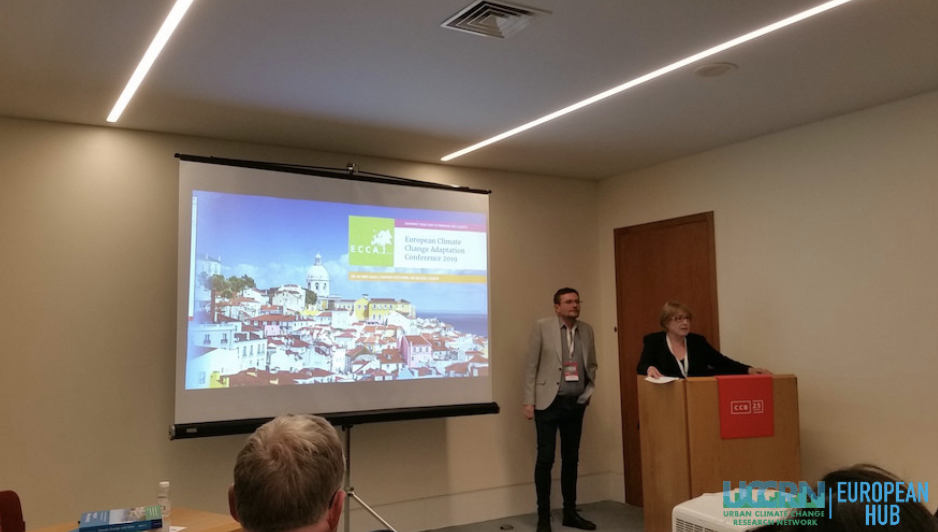 Today, dynamic and creative solutions which include measures of urban resilience are needed to address shifting climate realities worldwide. With a broader understanding of systems and problems, using a lens of interdisciplinarity, we can use our capacity for change to empower others and realize more effective solutions. The European Hub's philosophy and advice harks back to a fundamental understanding that solutions should be proactive, not reactive, as they sometimes are, and based on continuous knowledge exchange and scientific and technical collaborations.
If there is one takeaway I would like to share from my conversation with Dr. Pacteau and Dr. Leone, it would be the passion and motivation they displayed when discussing the issues of resiliency, adaptation, and good governance — passion and motivation that will be needed if we are to face what the future holds.
If you are interested in being interviewed for a Spotlight, please reach out to Sylvie Binder ([email protected]) for more information.