UCCRN's goal is to lead an ongoing, sustained, global city-focused assessment and solutions program, to provide cities with the knowledge they need to effectively respond to climate change.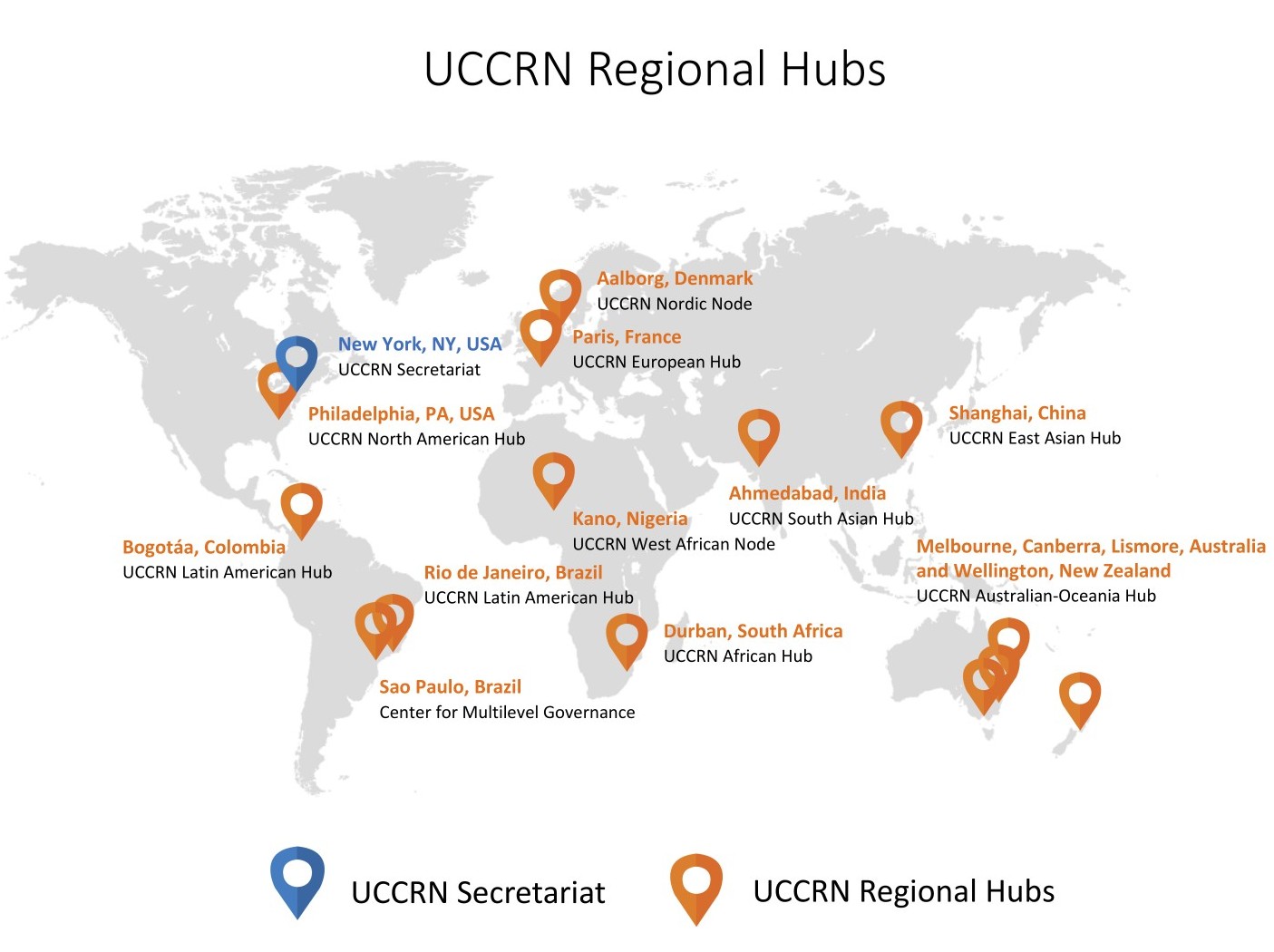 Building on a series of scoping sessions with stakeholders and members, UCCRN is transitioning from a report-focused organization to one that leads an evolving, sustained global city-focused climate change knowledge assessment and solutions program. The program is targeted to early, mid, and late-adopter cities through the expansion of the UCCRN network to include proactive Regional Hubs with field directors, program coordinators, and researchers that strengthen ongoing collaborations and knowledge exchange both for and within cities. 
The Regional Hubs operate at continental-scale (e.g., Europe, Central and Latin America, Africa, South and East Asia, Australia) and are linked to other relevant regional and global resource nodes such as the World Meteorological Organization Regional Climate Centers, and the Urbanization and Global Environmental Change (UGEC) Core Project, among others.
UCCRN is actively working to expand membership geographically with an emphasis on enhancing the involvement and expertise of developing country scholars in order to strengthen specific skill sets in areas where regional capacity is lacking. The creation of the UCCRN Hubs provides increased capacity for  in-depth, geographically-targeted research and support for local researchers and practitioners, who will be recruited from local universities and research institutes in key cities and important regions. Our regional work helps us achieve both our goals of strengthening urban climate assessments and fostering action initiatives globally.
The UCCRN Regional Hubs serve to promote enhanced opportunities for new urban climate change adaptation and mitigation knowledge and information transfer, both within and across cities, by engaging in a real-time monitoring and review process with cities through on-going dialogue between scholars, experts, urban decision-makers, and stakeholders. These activities are achieved through a combination of cities-based activities and workshops held at international city gatherings and accomplished through regular interactions that include monthly coordination calls, e-newsletters summarizing Hub activities, regional meetings hosted by each Hub every year, and an annual UCCRN meeting rotating through the Regional Hub locations. The UCCRN Regional Hubs also help us to formalize our urban climate assessment and action framework, allowing UCCRN to update the ARC3 report series on a regular basis with strong links to urban decision-makers worldwide.
Current Regional Hubs
 Secretariat: New York, NY, USA
African Hub: Durban, South Africa
Australian-Oceania Hub: Canberra, Melbourne, and Lismore, Australia + Wellington, New Zealand
East Asian Hub: Shanghai, China
European Hub: Paris, France
Latin American Hubs

Rio de Janeiro, Brazil
Center for Multilevel Governance: Sao Paulo, Brazil
Bogota, Colombia
North American Hub: Philadelphia, USA
South Asian Hub: Ahmedabad, India
Nordic Node: Aalborg, Denmark
West African Node: Kano, Nigeria